Need a new mattress? How to choose the right size?
It is not easy to choose a mattress. Obviously, you want good support and comfort. But have you thought about the size? You may benefit from another size than your current mattress or bed.
Dimensions of a single bed
If you are looking for a mattress for a single bed, you can choose from 70, 80, 90 or 100 centimetres. The length of a mattress is available in 200 cm, 210 cm and 220 cm. The standard size of a single bed? It is 90 x 200 centimetres. If you prefer a bit more space, then a width of 100 centimetres is definitely recommended.
Size of double mattresses
For the width of a double bed, mattresses of 140, 160, 180 and 200 centimetres are available. Dorsoo also offers three different lengths. 200, 210 and 220 cm. The standard dimensions of a double bed are 180 x 200 centimetres. 160 x 200 centimetres is definitely a good dimension if you never found it too narrow.
Moreover, rooms in newly build houses are becoming smaller again, so that smaller sizes will become more popular again. The 140 cm width is still regularly bought for older beds. It is good for people who are used to lying close together, ideal for small bedrooms and, moreover, very romantic. The 140 cm mattress is sometimes also the choice of single people who prefer to have some more space and a double bed.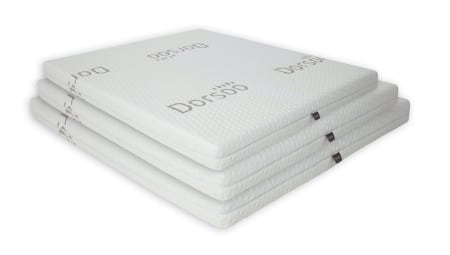 How do you choose the size of your mattress?
What size you choose is determined by various factors. If your bedroom is very small or very large, it may be a reason for choosing an outside size (140/200 x 210/220) for your double bed. This to make sure you can still walk around your bed comfortably or have a well-proportioned bed in a very large bedroom. The largest bed is the king size bed, at 200 x 220 cm.
Another parameter is your length. To be able to sleep comfortably, you need at least 15 to 20 centimetres extra space lengthwise in your bed. Example: someone who is 1.80 metres tall, requires a mattress length of 200 centimetres. Someone who is quite a bit taller, should buy a mattress of 210 or even 220 centimetres.
The standard size mattress in 2020 is 180 x 200 cm.
And the width of a double bed? This is a matter of the space in the room and your personal preference. Some people like to lie close together. Others have difficulty coping with the nocturnal movements of their partner or get too hot, and therefore prefer a wider mattress. Also take into account that bedding for an outside size is less readily available. And a bed in an outside size may be slightly more expensive than a standard size.
Firm or soft mattress?
How do you determine the firmness of your new mattress? At Dorsoo it is possible to combine a soft, medium or firm mattress in one double cover. This means that you have two different mattress cores, but it feels like one big mattress. Ideal to prevent the too firm/too soft discussion with your partner. If you do not want a combined mattress, you can choose for two fully separate mattresses. Looking for a new bed or mattress? Look at the Dorsoo ACTIVE+ sleep system.